Corporate Social Responsibility Through Community Service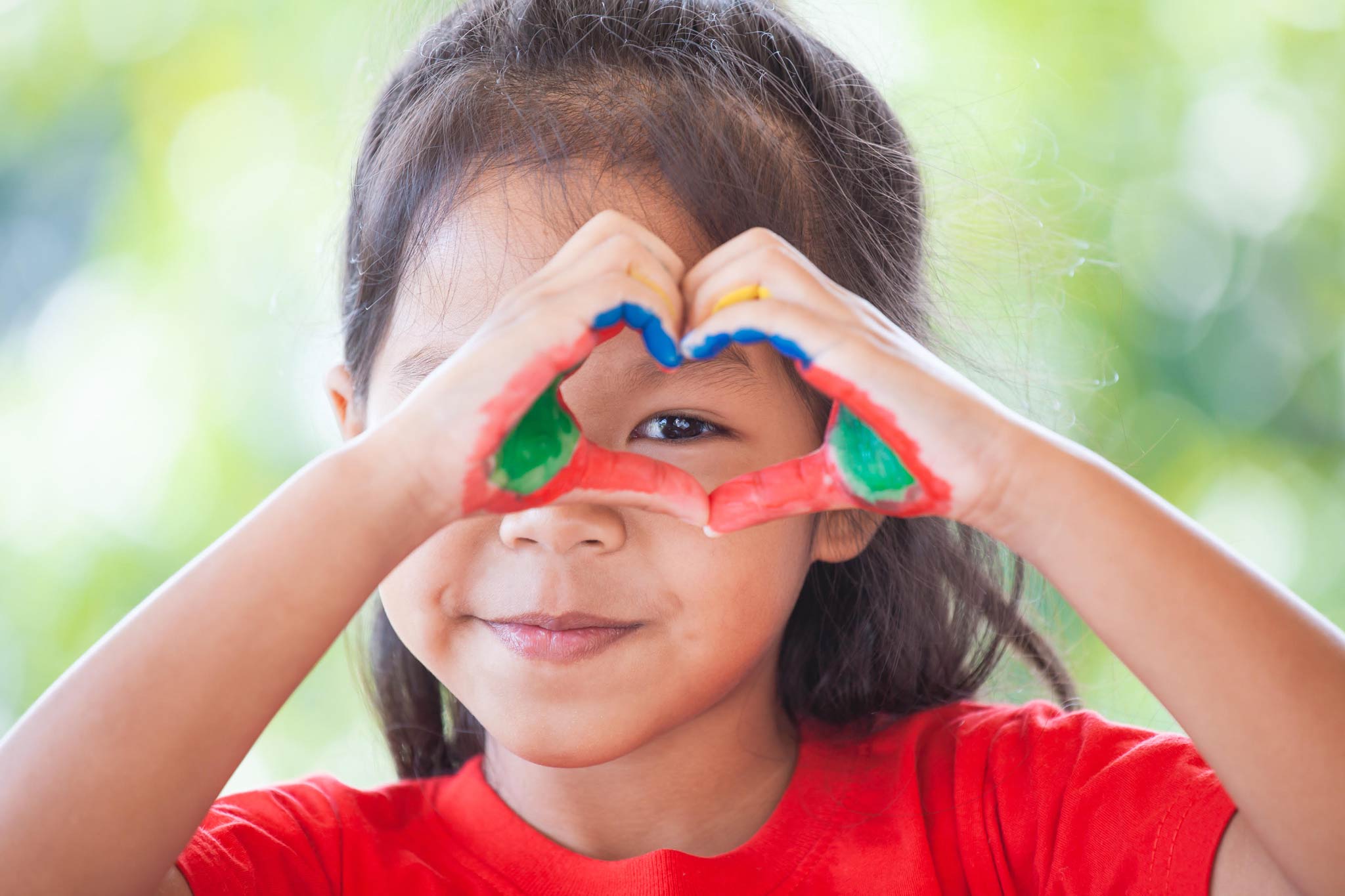 Employee volunteer program is a work of "heart"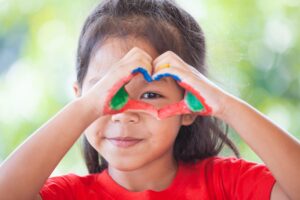 Summary: Corporate social responsibility managers look for programs that provide social value to create a positive impact on their brands. Hearts of Hope Foundation gives companies of all sizes the opportunity for employee volunteers to create and share tangible messages of kindness and hope with the communities they serve. Here are examples of how companies made a difference with Hearts of Hope by engaging employees in creative and meaningful work that inspired like-minded corporations to follow suit.
It only takes an hour for employees at purpose-driven corporations to make a difference. With a paintbrush and a ceramic heart, they are ultimately able to offer comfort to strangers facing trauma, loss, life-altering illness, and more. It's a community service project that is truly a work of heart.
Established in 2001, soon after the events of September 11, Hearts of Hope fosters healing through art. A "Heart of Hope" is a small handmade ceramic heart that is painted by people who seek to make a positive impact in their communities. The heart is a magical combination of human touch and a tangible object that offers hope to people in seemingly hopeless situations or experiencing grief or tragedy. It is a physical symbol of kindness, love, and support. Each painted heart is especially powerful because the recipient realizes that a complete stranger reached out during a time of need. The hearts are beautifully presented in an organza bag with a personal handwritten note of caring that includes some information about the sender.
Community Outreach Following September 11
The first hearts were given to families who lost loved ones in the September 11 attacks. More than 700 people turned up to paint Hearts of Hope at that first event. "Those people showed up because we were so stunned and sorrowful," said Hearts of Hope founder Judy Pedersen. "They needed to be in the company of others and 'do something, anything' to help." Hearts of Hope gives them an entry point, a way to make that important connection with others when they need it most."
Corporate Citizenship Takes Service to Heart
New York Life Insurance Company
When a gunman opened fire at Sandy Hook Elementary School in Newtown, Connecticut, there were no words for the pain and grief that followed. New York Life Insurance Company's Volunteers for Good responded from offices throughout the country to "paint a Heart of Hope for Sandy Hook." This community service project was embraced by New York Life employees in 10 locations who painted hundreds of hearts and wrote personal notes to the families of Sandy Hook. It was a gathering of like-minded souls who wanted to offer comfort during a time of devastating grief. NYL's Volunteers for Good have continued to "create hope" by the thousands in communities nationwide since that time.
GlaxoSmithKline
GlaxoSmithKline "creates hope" every year with Hearts of Hope in various ways. Every spring, Take Your Child to Work Day offers a fun and meaningful activity for children of employees while teaching and empowering the kids to become compassionate individuals and good citizens within their communities. GSK's grant funding throughout these past years has allowed for Hearts of Hope scholarships for schools and youth groups that wish to create hope for others but lack funding to do so. Orange Day, an annual fall event, includes Hearts of Hope to bring employees together for a meaningful and team-building activity.
CIGNA
Hearts of Hope events have been offered in Cigna's corporate offices many times in past years, and Cigna volunteers have always responded with caring and enthusiastic helping hands. With offices still closed because of the pandemic and employees working virtually from home, Cigna reached out to Hearts of Hope. As a result, in February 2020, Cigna hosted a virtual Zoom party for more than 100 employees and clients. Adults and children enjoyed upbeat music and shared their beautiful creations for all to see. These amazing hearts were given to the cancer center at Valley Hospital in Paramus, New Jersey, where, when patients ring the bell signifying the end of their treatment, they receive one of the Hearts of Hope.
Crum & Forster Insurance
Hearts of Hope has become a favorite service project for Crum & Forster. Last fall during the pandemic, the company's Contractors Team looked for a project employees could do virtually from home. Their mission was to create Hearts of Hope for the benefit of cancer patients at Atlantic Healthcare System in two locations: Morristown, New Jersey, and Summit, New Jersey. Their commitment went well beyond painting. Crum & Forster team members were on hand to deliver the hearts in time for Thanksgiving. Delivery day was a cold day, but one warmed by the spirit of hope.
Next, in late fall 2020, Crum & Forster invited more than 250 employees from 27 states, including Hawaii, to create hope for the benefit of assisted-living facilities in the hometowns of every participating office. Beautiful Hearts of Hope were hand-delivered by dedicated Crum & Forster employees for residents in these facilities who had faced substantial hardships resulting from the pandemic. Their impact was immeasurable, as they surprised and delighted hundreds of seniors all over the country.
Building a Corporate Social Responsibility Movement
It wasn't long before the Crum & Forster events spawned a wave of volunteerism. A movement of hope had begun.
Employee Families
A woman in Georgia who works for Crum & Forster saw an opportunity to help others by bringing her family together during the pandemic. They were scattered throughout the U.S., and even included a sibling in London. This family held a virtual holiday party during which they painted hearts and created hope for others.
ViacomCBS
ViacomCBS held a virtual Paint with a Purpose event in February 2021. This was initiated by one of its employees, Dana, who learned about it from her boyfriend, a Crum & Forster employee. Employees at ViacomCBS painted more than 200 hearts for grieving children. Hearts of Hope distributed these to children's bereavement organizations throughout the country, which are served by two national centers: The Dougy Center, based in Portland, Oregon, and Eluna Network, based in Philadelphia, Pennsylvania.
KDKA-TV Pittsburgh
As a follow-on to CBSViacom, KDKA-TV (the Pittsburgh affiliate for CBS) chose Hearts of Hope as the service project for their virtual Take Your Child to Work Day in April 2021. Hand-painted hearts were given out in food baskets from the Greater Pittsburgh Community Food Bank. In an interview with KDKA-TV Pittsburgh Live hosts, Judy Pedersen talked about spreading kindness and love: "For such a small gesture, these are keepsakes people keep — sometimes forever," she said.

Celebrating 20 Years of Healing Arts
The flagship healing art program, Hearts of Hope Community Service, came first. Since that first event supported families from September 11, more than 160,000 Hearts of Hope gifts have been created and delivered worldwide.
Bereavement resource and referral services expanded from there and are offered to all facing trauma and loss. Hope Academy continues to grow and includes an expansive list of comprehensive educational support workshops offered nationwide.
Hearts of Hope was born from tragedy and emerged with a vow to serve those facing grief with necessary tools and education to cultivate empowerment, resilience, healing, and growth.
Key Takeaways
Community service programs are well served through Hearts of Hope, as they:
Engage employees in corporate social responsibility efforts.
Raise awareness for your company's commitment to community service.
Generate publicity about corporate volunteerism programs.
Attract talent that is aligned with your company's values.
Join the movement of hope. Click here to learn more about our corporate community service programs.