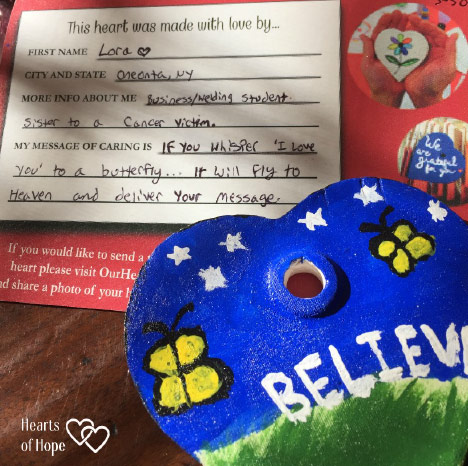 When was Hearts of Hope formed?
Hearts of Hope originated following the 9/11 tragedy. People all over the country wanted to help families from 9/11. As a result, our director worked with an art therapist and artist to create small handmade ceramic hearts. These were offered to the community where people were encouraged to paint and decorate a heart and accompany this with a personal message of caring and hope. Our organization became a 501(c)(3) charity in 2005 and our services have expanded to include our Hearts of Hope Healing Art Community Service Program, a wide range of support and educational workshops and outreach for those experiencing grief and loss to services and agencies nationwide.
What services are offered by Hearts of Hope
Hearts of Hope serves those with grief that comes in many forms such as the loss of a loved one, life-limiting illness, isolation, divorce, military service, and more.
We recognize there is no "one size fits all" approach to offering grief services. In addition, we recognize the driving desire of those who wish to reach out to grieving children and adults "to help in any way I can."
Our services are diverse for these reasons and include:
Hearts of Hope Healing Art Community Service Program
Purpose-driven community service program for groups of all sizes including families, corporations, communities, and groups. Facilitators provide education about the healing powers of art combined with this experiential hands-on art program.
Grief Support

Grief and loss support programs for children and adults.
Includes Hearts of Hope original trademarked programs to include:

G.R.I.T. School Program® – Grief/Resilience/Inspires/Triumph
SEL-driven four-part educational series for elementary, middle, and high school students.

Moving Forward Bereavement Support Program™

Bereavement support for adults ages 18 and over.

Workshops/Education
In-person or virtual support and educational workshops are available for groups of all sizes including corporations, communities, faith-based communities, and more. Our professionals continually design new workshops from the many requests we receive for individualized programs such as those that address Covid related grief, Corporate Grief and Grief from Community Tragedies and Disasters.
Compassionate Outreach
Grief and loss affect everyone and our compassionate outreach works by
Enlisting the help of those who wish to deliver HOPE and
Identifying those who need to receive HOPE.
Where does the money go?
Hearts of Hope keeps overhead costs at a minimum by deploying a vast volunteer force, setting up Hearts of Hope studios in donated settings, and maintaining a long-term group of dedicated contractor services such as accounting, marketing, and administrative services. This enables Hearts of Hope to apply more than 95% of all funding received to provide our services and programs.