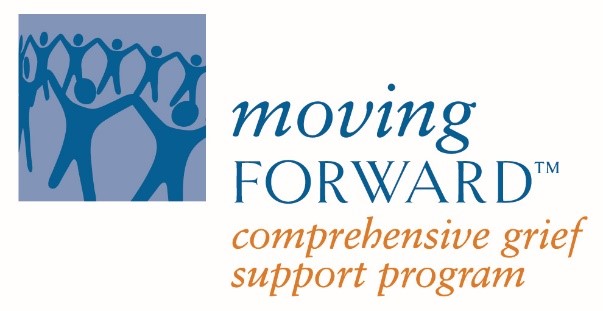 Moving Forward™ is a Revolutionary Grief Support Program providing unsurpassed levels of support.
A program designed to help grievers find hope so they can heal and grow. Moving Forward™ is evidence-based with measurable, deliverable, predictable outcomes.
"Grief is the natural reaction to loss. Grief is both a universal and a personal experience. Some examples of loss include the death of a loved one, the ending of an important relationship, job loss, loss through theft or the loss of independence through disability." – Mayo Clinic
WHAT IS MOVING FORWARD – A COMPREHENSIVE GRIEF SUPPORT PROGRAM?
Grief Support Program for Adults – 18 years and older.
1-1/2 hour modular 8-week group grief support program – conducted in-person or virtually. 
HOW IT WORKS
Offered as a turn-key program in either of two ways:

by Hearts of Hope mental health professionals who are experts in the field of end-of-life, death, dying, and bereavement,
or, Hearts of Hope will train your organization's facilitators to offer this program.

Includes delivery and distribution of professionally compiled resources, exercises, and information to help participants move forward during times of grief and loss.
WHAT PARTICIPANTS IN MOVING FORWARD RECEIVE:
Moving Forward Educational Materials

Grief Educational Materials
Exercises
Resource Guide

Education in all facets of grief and bereavement.
Support from not only the group facilitator but from other participants as well.
Workbook with reference materials to enable continuous learning and support.
"When my wife passed away, I felt as if I went into a state of super limbo. I agreed to try the group and found that right from the beginning we all understood each other. There was no judgment, and therefore no reason to hold back. For each 1 ½ hour session, that room became my universe and I found myself sharing more with these people than I had shared with my closest friends. We formed great friendships and now get together on our own for a monthly dinner." – Chuck Klemballa, Group Participant
BENEFITS FOR PARTICIPANTS
Educational and emotional support with a clear message that "you are not alone…"
Increased personal support system of like-minded individuals resulting from group interaction and shared experiences.
Education and reassurance that feeling "normal" returns; it just feels different than before.
Education and reassurance that meaning returns to life and is often found in surprising places.
"Hearts of Hope provides a safe, loving warm place for our bereaved families to begin to heal…the facilitators truly understand the journey these individuals face and treat each with respect; they provide loving guidance and foster hope and acceptance at every turn." – Catherine F. Owens, LCSW, OSW-C
Carol G. Simon Cancer Center / Morristown, NJ
MOVING FORWARD™ is a trademarked program of
Hearts of Hope Foundation, Inc.
Copyright © 2022
Get Started with Moving Forward™ by Contacting Us Below