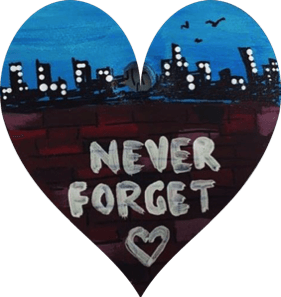 History
Our founder, Judy Pedersen, dreamed of forming a welcoming, safe haven for those facing loss. According to Judy, "grief is a lonely place and people who are grieving often don't know where to turn or what services are available for them."
The catalyst was 9/11, it was time to make this dream a reality and Hearts of Hope was born.
Our flagship healing art program, Hearts of Hope Community Service, came first. Our first event supported families from 9/11. Community members were invited and more than 700 people turned up! Since then, more than 200,000 Hearts of Hope gifts have been created and delivered worldwide.
Bereavement resource and referral services expanded from there and are offered to all facing trauma and loss. Our educational programs continue to grow and include an expansive list of comprehensive support workshops for communities and professionals. Online and in-person programs are offered nationwide.
Hearts of Hope was born from tragedy and emerged with a vow to serve those facing grief with necessary tools and education to cultivate empowerment, resilience, healing and growth.
And we are just getting started!
Join our movement of hope and become part of something extraordinary.