A Mother's Love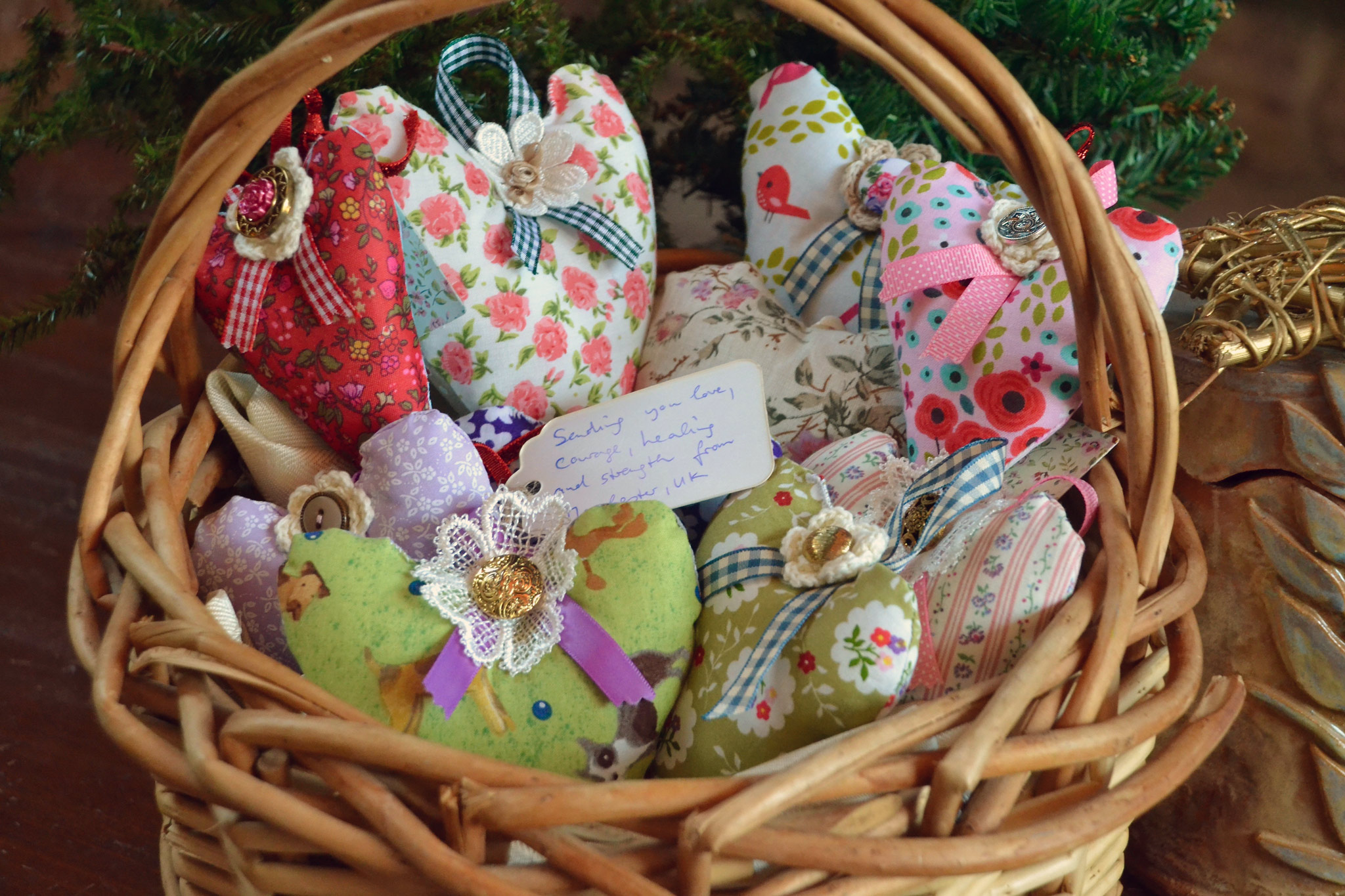 by Judith Pedersen, MSW; Founder of Hearts of Hope
May 2021
A MOTHER'S STORY OF GRIEF AND HEALING AFTER A SENSELESS ACT OF VIOLENCE
Figen Murray's Heartbreak Soothed by Comforting Others
Martyn Hett
What do you do when a terrorist bombing at a music concert takes the life of your beloved child?
If you are Figen Murray of Manchester, England, you knit Peace Bears, lots of Peace Bears, which you distribute worldwide. You enroll in a graduate program to obtain a master's degree in Counter Terrorism.  You work tirelessly to change laws for security at public events. You partner with the retired Superintendent of the London Met Police to propose and enact Martyn's Law, in honor of your beloved son, to bring about that change. You talk to 10,000+ children about kindness, forgiveness, tolerance, unity, and resilience. You create Hearts of Hope as gifts for other families grieving another mass attack at a music concert. And. You. Change. The. World.
Figen Murray, lost her son Martyn Hett during the suicide bombing at the Ariana Grande concert at Britain's Manchester Arena on May 22, 2017. She has tirelessly advocated for safety at public events ever since.
On May 4th, 2021, I had the honor of visiting with Figen Murray in her home in Manchester, England via Zoom and was inspired by her story of moving forward following this tragic event. I was humbled that our Hearts of Hope Foundation community service program touched her so deeply and became a way she could pay kindness forward.
A Mother's Story of Grief and Healing
Soft spoken but with deep significance in every word, Figen describes Martyn as a vibrant young man of 29 years who was making his way as a marketing manager, preparing to purchase his first flat and looking forward to a trip to America two days following the tragedy. He was funny, full of joy and had a zest for life. She could always count on Martyn to make her laugh.
Figen describes the dark days and weeks following the tragedy with one notable experience. She woke early one day before her family and decided to watch the numerous YouTube videos Martyn had made and posted. His sense of humor was as contagious in his videos as in life. Expecting to watch these videos with endless tears, Figen was ready with a cup of tea and lots and lots of tissues. Rather than crying, she described her response as laughing non-stop at Martyn's stories and antics. An unexpected reaction, for sure, a welcome change, and now a lifelong memory.
Prior to this tragedy, Figen worked as a therapist with a thriving family practice. She had always knitted little bears, each with therapeutic value possessing their own personalities, traits, and challenges. Peace Bears evolved from this and her knitted treasures have become ambassadors for peace, kindness, and unity worldwide. Family practice shifted to her desire to advocate against terrorism and for increased safety at public events. Martyn's Law seeks to provide a framework for this expansive level of security at public venues to identify and prevent acts of violence. This shift from family practice also evolved to work with schools to educate children about terrorism and the importance of acceptance, kindness, and unity.
Hearts of Hope gifts of caring and compassion were part of Figen's transition to service with much broader and far-reaching impact.
I Met Figen Murray After the Concert Bombing in Manchester England
Here is how I first became introduced to Figen Murray. Following the Manchester terrorist attack on May 22, 2017, individuals and groups contacted me about creating Hearts of Hope gifts for Manchester. Our hearts are small handmade and hand-painted ceramic hearts accompanied by poignant messages created by individuals and distributed worldwide as symbols of love and hope to people in tragedy and grief.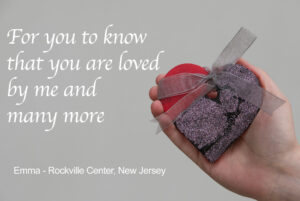 As part of the Hearts of Hope Foundation Community Service program, our Hearts of Hope Newtown, Connecticut Chapter had a connection with the Manchester Police Headquarters and arranged for 300 hearts to be created by groups nationwide through the United States and delivered to these officers and first responders. These heroes also grieve horrific events and Hearts of Hope were created to recognize and honor their efforts. All were lovingly received.
Each time a Heart of Hope is presented to a recipient, there is surprise, delight, and gratitude that a stranger would choose to reach out to offer support during challenging and sorrowful times.
Officers from Manchester were so touched by our Hearts of Hope gifts, they were inspired to pay it forward to the Manchester community they served. Two of these officers were assigned to Figen and her family following the tragedy. During one of their visits, these policewomen, literally, gave their hearts away by taking Hearts of Hope they received and gifting these to Figen and her daughter.
Mother and Daughter Compassionate Outreach Continues
Figen and Louise cherished their Hearts of Hope and added these to a memory box with other items that touched their hearts following Martyn's death. Then, they did something extraordinary, all the result of another horrific and tragic event.
On October 1, 2017, a gunman fatally shot 60 people and wounded another 411 at the Route 91 Harvest music festival on the Las Vegas Strip in Nevada. Following this, the gunman also took his own life.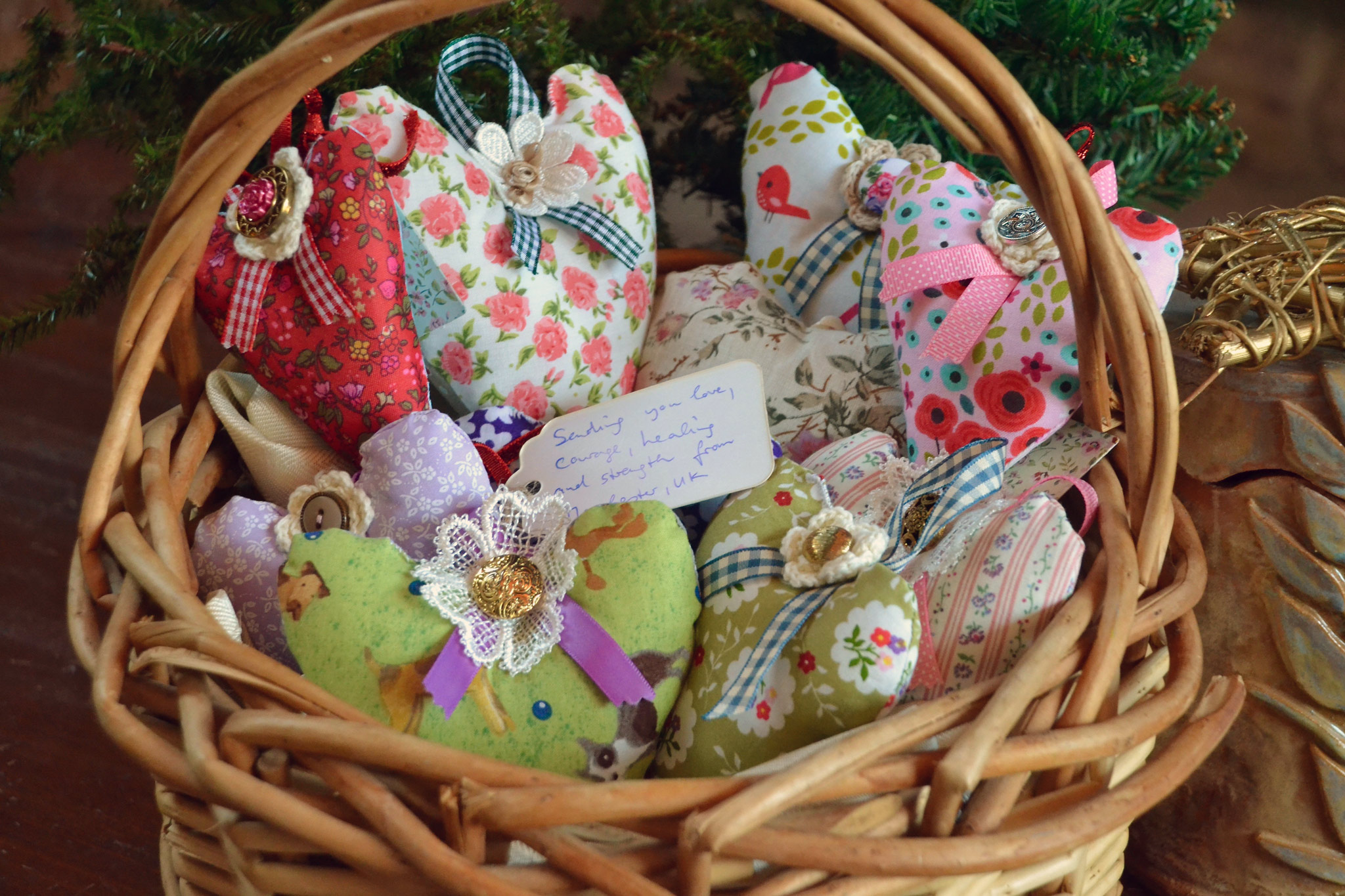 Some of the Hearts of Hope created by Figen and Louise
Figen and her daughter felt the impact of this shooting more intimately and more personally than most because this type of mass tragedy had taken the life of their beloved Martyn, as well. They were motivated to help. Together, they gathered supplies, including small organza gift bags, and made their own Hearts of Hope. Small wooden shapes, tiny pillows, heart shapes in felt, you name it, they "created hope" with every heart and accompanied these with their own personal messages of caring and support.
To our surprise, following the tragedy in Nevada, Hearts of Hope received a package from Manchester, England containing dozens of beautiful handmade gifts, hearts of every shape and size, each with beautiful and personal messages, all hand made by Figen and Louise. They asked us to deliver them to the victim's families. Families of victims from this tragedy were deeply touched and inspired by this outreach in ways only families who "have been there" can understand.
Since September 2020, Figen has been attending the public Manchester Arena inquiry to see what happened and what went wrong. While she listens to the heartbreaking investigation details unfold, she knits Peace Bears to share with others. She continues to advocate for families impacted by unspeakable terror and tragedy. Through her education and outreach, she is profoundly changing the world "one person at a time." You can learn more of her invaluable work by visiting her website.
"I believe that even small acts of kindness make a big difference to individuals' lives." Figen Murray
In the United States, we'll be celebrating Mother's Day this weekend where we will recognize and honor all our mothers for their selfless care and unending love.
This is one mother's story.
###
To find out how you can create Hearts of Hope that help others heal from grief, visit our Community Service program webpage.