Hearts of Hope Community Service Program
HOPE. HAPPENS. HERE.
Pain from loss and trauma can be overwhelming, including our own emotions when we witness this in those we care for. Helplessness, deep sadness and numbing exhaustion associated with grief are at times all-consuming. That's when outreach from a caring individual – even a stranger – can make all the difference. Hearts of Hope offers a tangible opportunity for individuals and groups to engage in volunteer work through community service to be part of a healing movement.
Our Hearts of Hope community service program provides volunteers with a means of expressing empathy and compassion to those who are experiencing grief, trauma and loss by creating personalized hearts that are distributed to people all over the world. As the longest-running and largest healing art program in the United States, we have helped hundreds of thousands of people during the most difficult times in their lives. We have responded to national and international tragedies since 9/11 and have worked with hospitals, grief centers, cancer centers and the military worldwide.
What is a Heart of Hope?

A Heart of Hope is a small handmade ceramic heart that is hand painted by people who seek to make a difference in the world. The heart is the magical combination of the human touch with a tangible object that offers hope to people in a seemingly hopeless situation. It is a physical symbol of kindness, love and support.
Each painted heart is especially powerful because a complete stranger reached out in support in a time of need. Hearts are beautifully presented in an organza bag with a personal handwritten note of caring, which includes some information about the sender.
What is the Hearts of Hope Community Service Program?

The Hearts of Hope Community Service Program brings people together virtually or in person to paint hearts and write inspiring messages. Hearts of Hope are then delivered in person by representatives of the groups who create these gifts as donations to a cause of their choice, or are returned to the Hearts of Hope Foundation for distribution to those in need of healing outreach.
Our volunteers are all ages and abilities, from preschoolers to seniors.

You are never too old or too young to paint a heart. Our volunteers are from diverse backgrounds, but they share a common goal: to help others in times of need. They join us from home, at work, at school, with their faith-based and service organizations, and with other civic and community groups.
No artistic talent is required – just a desire to make a difference.

If you can hold a paintbrush, you can make a difference. We provide you with the materials. You choose a cause that is special to you or ask us to identify those in need. Our recipients include individuals battling cancer, parents dealing with the loss of a child and families navigating other grief or tragedy.
You can make a difference in less than an hour.

It takes less than an hour to complete one heart and a caring message of hope. You can paint more than one, of course!
You can paint in person or virtually.

The pandemic hasn't stopped us from painting. We can organize a virtual painting session for your group. We'll provide the materials beforehand, and then meet with you online at the appointed date and time to create hope together.
Why groups volunteer for community service.

Helping others feels great. It provides a healthy boost to our self-confidence and our own happiness. As for our recipients, getting a caring message from a stranger is immensely powerful. You are making a true difference in someone's life, creating a lifelong keepsake of hope.
We need your help. We are a volunteer organization able to create hope only because of your involvement.
"My mother received a Heart of Hope just before she died of cancer. What an impression that made! She was so touched a stranger would do something like this for her. Since her death ten years ago, this little heart has hung in my car and has lifted me up as well. It's like my mother is always with me." – Theresa, Verona, NJ
How to Get Your Group Involved in Community Service Work 
CLICK ON THE BOXES BELOW TO FIND OUT HOW YOU CAN START SPREADING HOPE.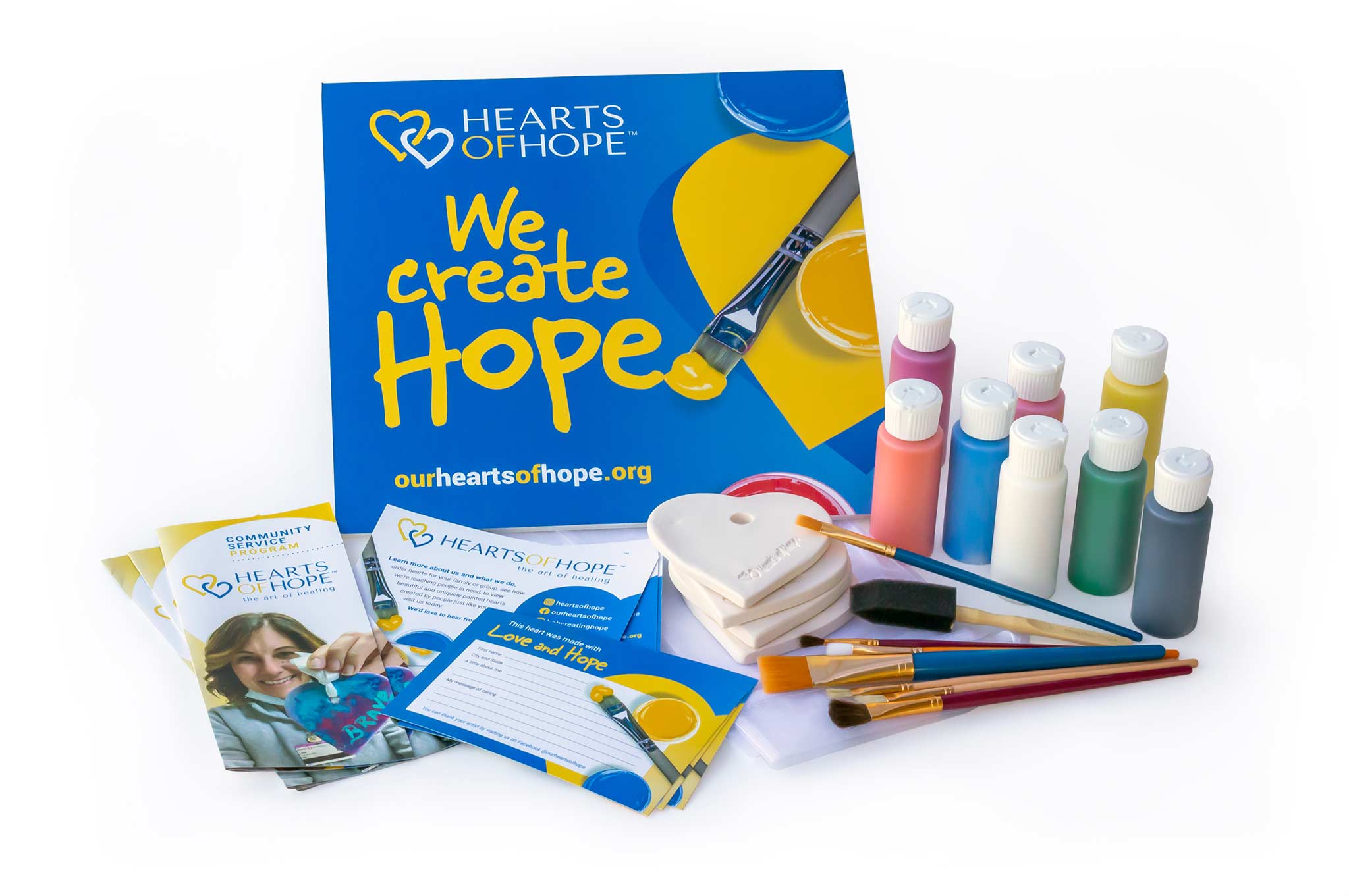 Order Hope Kits
Order a Hope Kit
"Create hope" for those in need by painting and decorating handmade ceramic hearts, which are accompanied by your handwritten messages of hope and healing.
Hope kits come with everything needed, including unpainted ceramic hearts, paints, brushes, message cards, ribbons, gift bags, placemats, instructions and more.
CREATE HOPE – DELIVER HOPE – CHANGE THE WORLD!
Your orders are tax deductible.