COMMUNITY SERVICE AT HOME
START A FAMILY TRADITION OF HELPING OTHERS
You're never too young – or too old – to make a difference. Hearts of Hope provides an opportunity for all of us to create healing art that inspires feelings of optimism, positivity, empowerment and resilience during the darkest of times.
Paint with a purpose.
This tradition is about creating hope for those in need by painting and decorating handmade ceramic hearts, which are accompanied by your handwritten messages of caring and compassion. It's the perfect family project because it can be done in the comfort of your own home with a minimum of time and effort – and maximum impact.
Turn your children's next project into a project of hope.
By painting a Heart of Hope, you can help your community and set a positive example for your child/children at the same time – teaching the value of empathy, compassion and selflessness. Spending time to help a cause that you care deeply about brings your family together in a way that is powerful and long lasting.
Empower your children's compassion
Unleash your child's creativity
Create a beautiful keepsake for someone in need
Promote healing through human connection
It's easy to schedule – even in our busy lives.
It's common to feel disconnected as we juggle our busy schedules. With Hearts of Hope, you can come together when your schedule allows and experience meaningful connections with your own family as you complete this project together. It typically takes less than an hour to create one Heart of Hope and a caring message, but you can create as many as you like!
We provide everything you need.
We send you a hope kit with everything you need, including unpainted ceramic hearts, paints, brushes, message cards, ribbons, gift bags, placemats and instructions.
You and your family paint and decorate handmade ceramic hearts and write messages of caring and compassion on the cards we provide.
You choose to deliver completed Hearts of Hope to the destination of your choice or ship them back to us in the original packaging. 
Take lots of pictures – and spread the word.
Share your pictures with Hearts of Hope, and we'll spread the word about the positive impact your family is making in your community. This celebrates the contributions that your child/children are able to make and reinforces to them the value of doing so.
Ready to "create hope" at home?
We make it easy. Simply fill out the contact information form, and we'll get you started.
"My family, like so many others, has struggled during these months of COVID-19. Hearts of Hope has been a lifeline to help us cope with our isolation and loneliness for our friends and family. We and our neighbors hosted virtual painting parties! We made a total of 75 Hearts of Hope gifts and, once complete, families all over the neighborhood had a treasure hunt. What fun, waving to each other from our cars and letting our kids find 'just the right spot' to leave their treasures. Hope was discovered everywhere. Thanks, Hearts of Hope, thanks very, very much." – Carrie, Fort Myers, FL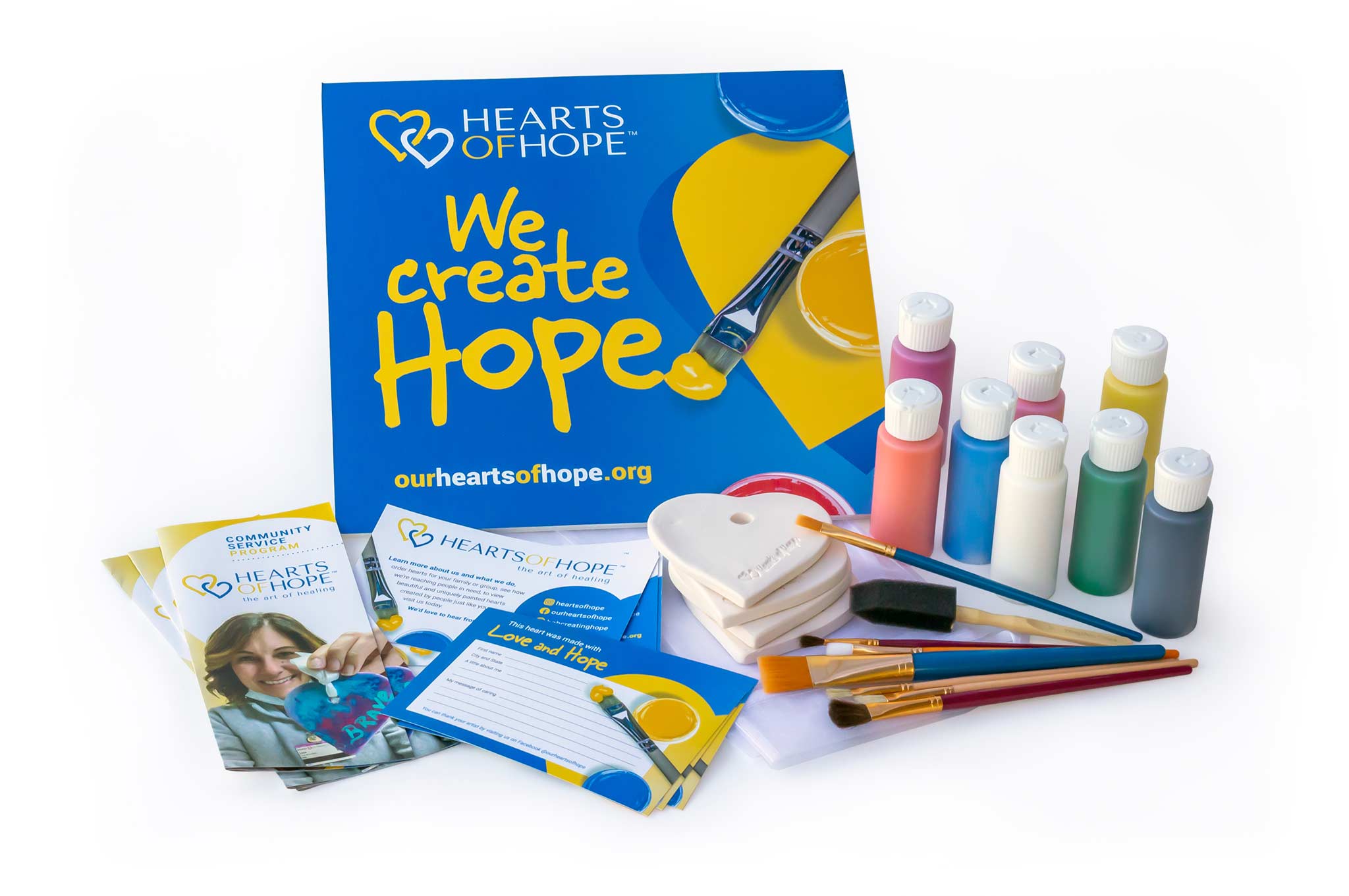 Order Hope Kits
Reach Out
Have questions about our programs? Contact us and we'll get back to you right away!