COMMUNITY SERVICE IN YOUR COMMUNITY
NEIGHBORS HELPING NEIGHBORS – STRANGERS BECOMING FRIENDS
If you're seeking to make a difference, Hearts of Hope offers a high-impact volunteering opportunity for community groups.
Paint with a purpose.
This project is about creating hope for those in need by painting and decorating handmade ceramic hearts, which are accompanied by your handwritten messages of caring and compassion. It can be done in person, virtually, in large or small groups, and with a minimum of time and effort.
Hearts of Hope is the perfect project for:
Block or neighborhood associations
4-H clubs
Auxiliary groups
Facebook moms' groups
Book clubs
Summer camps
Sports clubs
Community art programs
We provide everything you need.
We guide you every step of the way. We send you a hope kit with everything you need, including unpainted ceramic hearts, paints, brushes, message cards, ribbons, gift bags, placemats, instructions and more. We can also provide custom message cards with your organization's logo and name on the back.
Your group members paint and decorate handmade ceramic hearts and write messages of caring and compassion on the cards we provide.
You choose to deliver completed Hearts of Hope to the destination of your choice or ship them back to us in the original packaging.
If your organization has a signature cause or recipient in your local community, we work with them to get your Hearts of Hope gifts to the right individuals.
An added benefit: School-age participants who "create hope" for others receive service hours!
Creating a Heart of Hope is powerful!
Through creating Hearts of Hope, group members share healing energy and make personal connections to promote resiliency and empowerment. They experience the joy of creating a beautiful keepsake that helps someone in need build a road to hope from one heart to another.
If your community has experienced loss or tragedy, Hearts of Hope further helps you in the healing process. It allows you to share your resilient spirit of hope with others who may also be navigating tragic circumstances.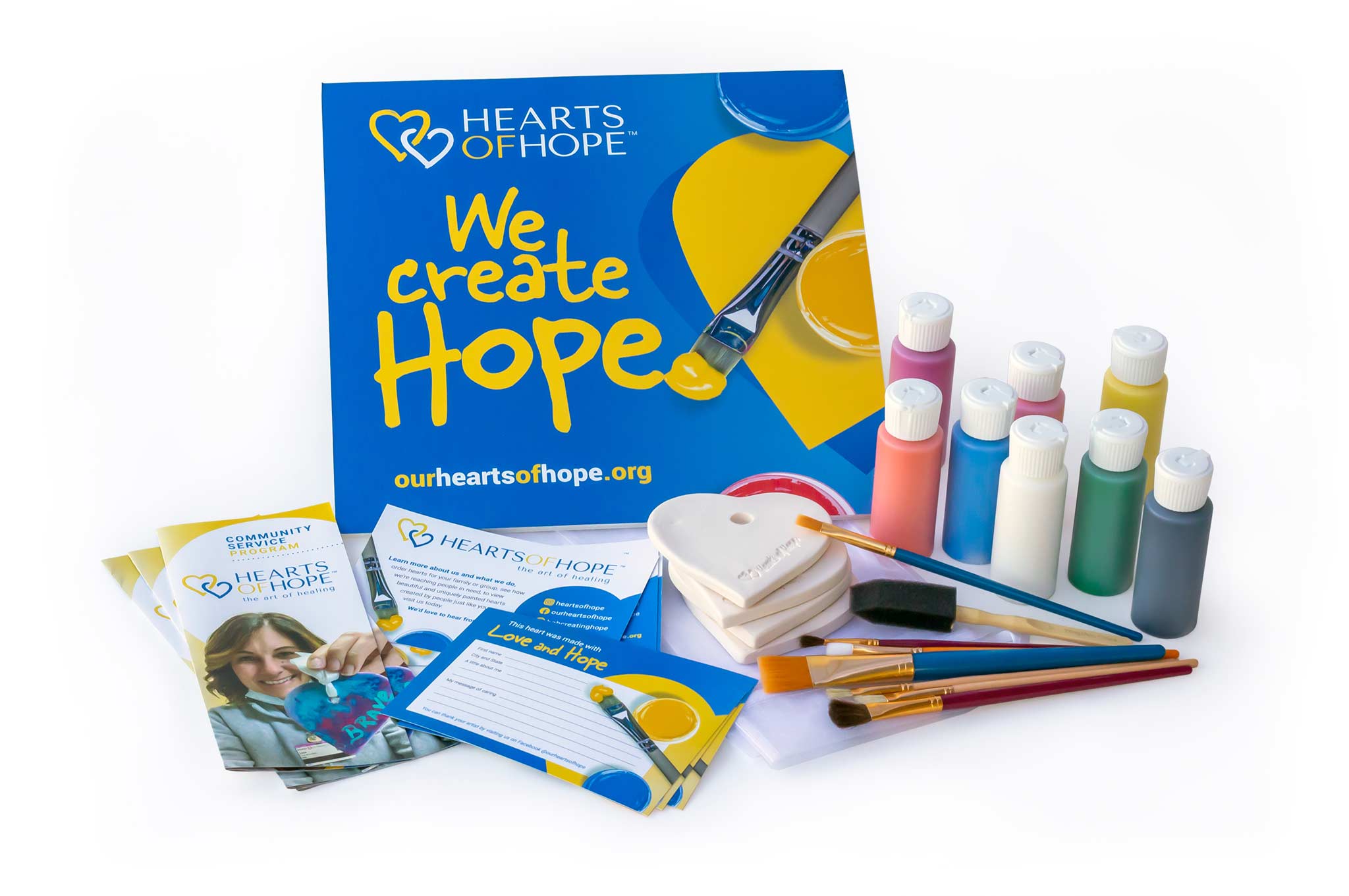 Order Hope Kits
Reach Out
Have questions about our programs? Contact us and we'll get back to you right away!