How Stigma Affects Grief in Communities Impacted by HIV/AIDS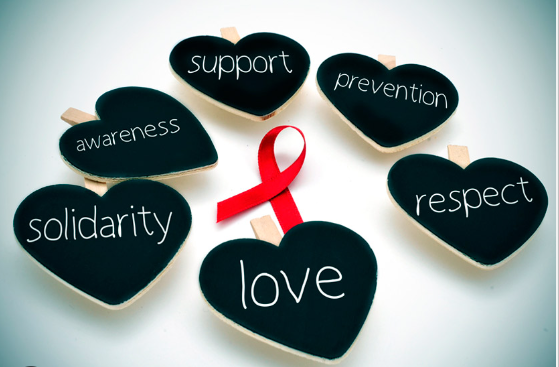 A History of Marginalization Led to a Complicated Experience of Loss

Mary Kaminsky was a hospice worker in the early days of the AIDS epidemic and remembers the first patients coming into the facility where she worked. "They didn't have visitors a,nd their food was brought up on cardboard trays, then thrown into a biohazard bag," she said on the latest episode of The Grief to Grit Podcast. "It was heartbreaking." 
Mary, who is now the Director of Development for the Southern Tier AIDS Program (STAP) in New York, recalls the way the LGBTQ community was impacted by the onset of HIV/AIDS and by homophobia, discrimination, and misinformation. "It made it really hard for them to seek any support or to grieve their friends' passing, or even their [own] imminent passing," she said. Families often pretended their loved ones died of something other than AIDS. That stigma, along with the magnitude of loss, created a profound sense of grief that was often suppressed and silenced. 
The dark, early days of the crisis brought layers of disenfranchised grief to the LGBTQ community and their loved ones. From the fear of disclosing HIV status to the moral judgment and erasure by policymakers, it took society years to recognize the grief that came with such sudden, painful losses. Things have changed today. For example, in New York, where Mary works to serve, educate, and care for people impacted by HIV/AIDS, marriage equality protects and recognizes LGBTQ partners in the event of illness or death.
But in the past year, Mary has seen us take steps backward in equality and acceptance. In 2023 alone, 525 state bills have been introduced that attack the LGBTQ community. These kinds of laws impact healthcare and grief—they make people afraid, and that fear generates silence.
At the same time, the communities impacted by HIV/AIDS have expanded and changed since the epidemic began. The opioid epidemic, in particular, means that there are many substance users who are more at risk for infection. STAP has a syringe exchange program that drastically reduces the rate of disease spread through unclean syringes, but drug use and these types of programs have their own type of stigma and judgment attached to them.
"These are beautiful people, lovely people, who were faced with so much stigma and judgment," Mary said, "and what they should have been faced with is support and love." She brings her years of experience in hospice to the changing landscape of HIV/AIDS and the grief that accompanies it. As Mary explains in her podcast conversation with Judy Pedersen, one of the most important things we can do for anyone facing stigma, illness, and grief is to listen without expectation or judgment. "[Don't] assume that you know what they want or how they're feeling," she explained. 
And along with learning to listen well, Mary reminds us to advocate for policy change and accessible healthcare to combat the lingering stigma associated with HIV/AIDS. Even though modern medication has made HIV a treatable, far less scary illness, a lot of fear and marginalization remains. If you know someone with HIV/AIDS, and they're comfortable with it, showing you are not afraid of them goes a long way. "If anybody tells you that they have that diagnosis, give them a big hug," Mary said. "There is nothing to be afraid of."
For more about Mary's work combating fear, shame, and stigma to help people live more fully and grieve more openly, listen to her full conversation on the The Grief to Grit Podcast, wherever you get your podcasts.
Photo courtesy of Wikimedia Commons