Teacher Training to Help Students with Grief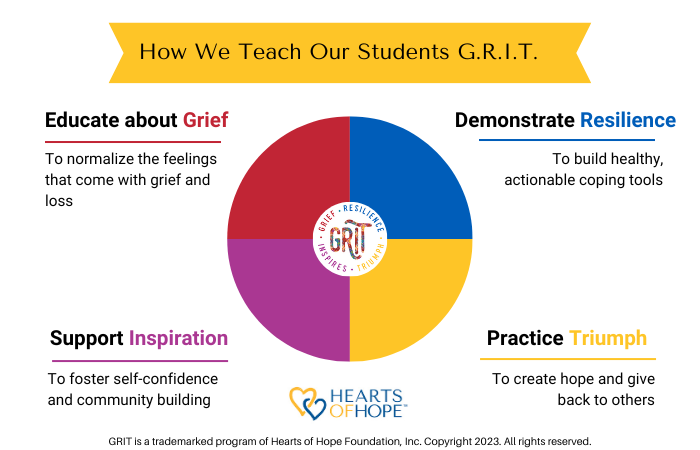 [Infographic] New GRIT Program Helps Children Who Are Grieving
Our children and students are in a mental health crisis. The isolation, stress, and loss of the COVID-19 pandemic compounded already rising rates of mental health challenges. In the last decade, feelings of persistent sadness and hopelessness—as well as suicidal thoughts—increased by 40% in young people.
Hearts of Hope created a program called GRIT to address this crisis. The purpose of this program is to provide teacher training to help students who are grieving learn resilience.
School staff or volunteers who have been trained are involved in implementing the program. The goal is to address the issue of student grief and mental health.
GRIT is an innovative educational curriculum for middle schoolers that teaches evidence-based skills to help students improve their mental health. The program assists young individuals in coping with common grief challenges. These challenges include loneliness, social media pressure, and losing loved ones to illness or violence.
The four pillars of GRIT are Grief, Resilience, Inspiration, and Triumph. Pillars help students gain tools to be resilient, confident, and connected to peers and community. We need GRIT to help our kids learn accessible, effective ways of accepting change and moving through grief.
Many programs claim to help young people recover from grief. GRIT focuses on teaching students how to remain healthy and motivated while living with grief. It helps students discover their strengths. Those strengths become the building blocks of their own resilience. 
When we piloted the GRIT program with middle school students in Arizona and North Carolina, they experienced positive and measurable results. Students learned what grief is and how it can affect them, practiced sustainable resilience building, and participated in community service. Tammy Miller, a special education teacher, taught her students about grief with the GRIT program. She saw them understand grief in new ways and apply that knowledge to their own lives. 
Now, we are scaling the program to help more children and teens throughout the United States improve their mental health. We have a program for middle school students and will also modify it for high school and elementary school.
The infographic below illustrates the four modules of our GRIT program and what their impact is on young people.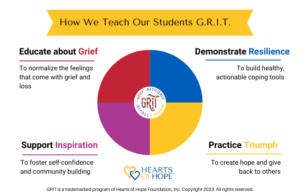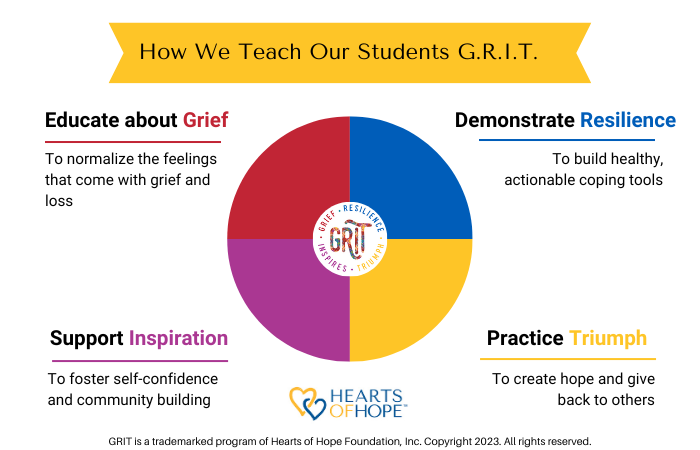 Educate about Grief
Teachers help students understand and cope with grief by discussing its definition and the emotions that can come with it.
Demonstrate Resilience
Teachers assist students in developing coping skills. They do this by guiding them through exercises that enhance their emotional and physical well-being. This process helps students create a toolbox of strategies for resilience.
Support Inspiration
Teachers assist students in comprehending the concept of inspiration and motivate them to discover individuals and things that inspire them. This process helps in developing self-confidence and fostering a sense of community.
Practice Triumph
Teachers organize an art workshop where students paint handmade ceramic hearts. Each heart is accompanied with a personal letter of caring and gratitude to the inspiring teacher of their choice. Schools do this as a service project to demonstrate that, by caring for others, they also understand the value of selflessness and kindness. 
How does GRIT help students cope?
GRIT offers teacher training that helps teachers learn more about the grief process. This education enables them to better understand their students and grief. It makes both teachers and students more equipped to cope with loss and change.
By educating, supporting, and practicing skills with students, we can foster healthier minds and more hopeful hearts. 
Educators can promote resilience in schools in two ways. Hearts of Hope can send a trained professional to interested schools to facilitate the four-hour GRIT program. The program can be offered as a one-time training session or separated into four one-hour modules. Alternatively, Hearts of Hope can train in-school faculty to facilitate the GRIT program themselves. 
Training teachers to implement resilience-building exercises with their students is a scalable way to combat the mental health crisis in schools. GRIT is a cost-effective program that gives schools the opportunity to work with Hearts of Hope to customize the program in ways that best meet the needs of their student population.  
Now more than ever, students across the country need GRIT to combat rising rates of loneliness, loss, and mental illness. Hearts of Hope used art, resilience research, and grief support experience to create GRIT, a program with proven benefits. It is an accessible, effective program that leaves students with knowledge, confidence, and hope.
Our goal is to help schools build resilience. This will ensure that every student has the resources they need for education, empowerment, and personal development. 
Email us (
info@ourheartsofhope.org
) to bring GRIT to your school or community.