A Gala Celebration of Hope & Corporate Social Responsibility
Crum & Forster celebrates its commitment to Hearts of Hope at its 200th Anniversary gala.
Summary: When Crum & Forster held its 200th anniversary gala on May 19, 2022, the insurer showcased its employee volunteer program and its special partnership with the nonprofit Hearts of Hope healing arts program. It's part of their companywide corporate social responsibility program. The results were, in a word, magical.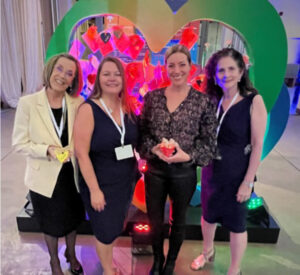 It was a celebration of corporate social responsibility. The wall rose seven feet high and stretched out eight feet wide in the ballroom at Ellis Island. Hundreds of colorful glazed hearts filled the space, each decorated with a personal message. Dream. Inspire. Imagine. Believe. Hope.
These were the heartfelt messages created by caring volunteers at Hearts of Hope, an organization that helps people find hope and healing during times of grief, loss, and tragedy. The heart-shaped display at the Crum & Forster's 200th Anniversary Gala was the culmination of a 2+-year partnership between the nonprofit and the insurer as part of the latter's commitment to corporate social responsibility.
A Corporate Social Responsibility Project Takes Shape During the Pandemic
Crum & Forster believes that corporate social responsibility is at the heart of doing good business. When the world shut down for the pandemic, Crum & Forster searched for a community service project that employees could do virtually from home. They found Hearts of Hope, and completed their first project: hearts and heartfelt messages for cancer patients at Atlantic Healthcare System in two locations – Morristown, NJ and Summit, NJ. Their commitment went well beyond painting hearts. Crum & Forster team members were on hand to deliver the hearts in time for Thanksgiving.
In the late fall of 2020, Crum & Forster invited more than 250 employees from 27 states, including Hawaii, to participate in the Paint with A Purpose employee volunteering initiative and create hope for the benefit of Assisted Living Facilities in hometowns of every participating office. Beautiful Hearts of Hope were hand delivered by dedicated Crum & Forster employees for residents in these facilities who had faced substantial hardships resulting from the pandemic. Their impact was immeasurable as they surprised and delighted hundreds of seniors all over the country.
A Display of Hope, Light and Freedom at an Historic Occasion
In planning for the 200th Anniversary Gala, John Sadaka, Director, Events & Sponsorships for Crum & Forster, shared a concept for an art installation. He told Hearts of Hope Founder Judy Pedersen that the company wanted to highlight Hearts of Hope at the gala. Judy replied that a Wall of Hope had been a longtime dream of hers. Said John, "I'm about to make that dream come true."
On Thursday, May 19, 2022, that dream was realized as Crum & Forster celebrated its 200th anniversary, marking two centuries of dedicated service to customers, communities, and team members. The milestone event featured a host of special guests, including former President George W. Bush and Grammy award winner Sarah McLachlan.  Over 650 guests gathered at Ellis Island to celebrate Crum & Forster's proud insurance industry history and commitment to community service.
It was only fitting that the event took place at Ellis Island, the place where, for decades, the Statue of Liberty has invited immigrants and refugees to "Give me your tired, your poor, your huddled masses yearning to breathe free." With its symbolism of hope and light, the Statue of Liberty offered the perfect backdrop for Hearts of Hope.
The Hearts of Hope Wall was a beautiful focal point. Judy and fellow board members Diane Sarna and Connie Lester stood in awe of the display, which featured not only their hand painted ceramic hearts but a beautiful video showcasing their work over the past two decades.
"There is a fine line between magic and dreams," said Judy. "We aspire for many things throughout our lives and we dream for more. It's no secret that to make dreams come true, it takes a lot of hard work, tenacity, and an abundance of grit. Our enduring faith in our mission to help others is what brought us here today. To be able to offer hundreds of caring people the opportunity to physically create hope at the feet of Lady Liberty herself, well, it is hard to find words to truly describe how this feels."
A Heartfelt Tribute to Sarah McLachlan
Canadian singer and songwriter Sarah McLachlan was the evening's star performer. In the hope that they might be able to have gifts delivered to her, Judy and her team created two beautiful custom Hearts of Hope. One featured a guitar and the other displayed the logo from the music school Sarah founded.
After Sarah performed, however, she disappeared from view. The evening was drawing to a close, and it looked likely that Sarah would not receive her hearts. That's when one of the art studio designers looked at the time and said, "I have to go; I need to drive the talent over the bridge and back into Manhattan." Hearts of Hope's Connie Lester had a hunch and asked whether she meant Sarah McLachlan. She asked the artist to take the hearts to her.
As Judy, Connie and Diane prepared to leave the venue, they caught a glimpse of Sarah McLachlin walking back in. She came to thank the group in person for the hearts!
"She told us she loved her hearts and will treasure them," said Judy. "And we loved Sarah for making such a kind and thrilling gesture."
Corporate Social Responsibility in Action Through Employee Volunteering
The beautiful ceramic hearts had their place at the gala, and now they are headed for their true purpose—as physical symbols of hope, given from one stranger to another to lift those who receive them. The Hearts of Hope team is busy working with Crum & Forster in its corporate social responsibility program to deliver these hearts to those who need them most.
You can bring the Hearts of Hope's healing arts community service program to your organization in support of your corporate social responsibility efforts to boost morale, your brand and your community connections.
Connect with Us Today
Click here Learn more about our community service programs or email info@heartsofhope.org.
Find out more at https://ourheartsofhope.org/.