A Hearts of Hope Valentine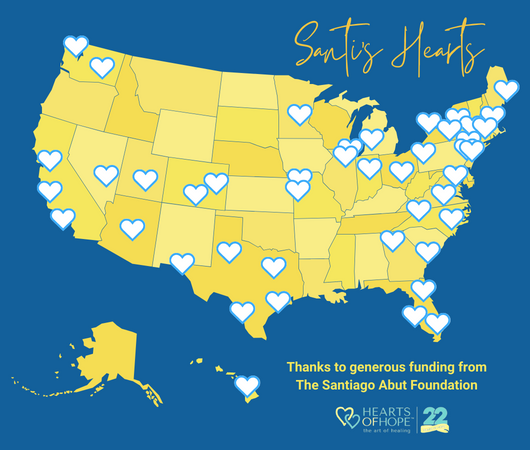 The Impact of Santi's Hearts

Since 2017, The Santiago Abut Foundation has generously supported Hearts of Hope's mission through grants that bring healing art programs to children in underprivileged communities that would otherwise not be able to take part in our painting events. Thanks to the grant:
6,216 ceramic hearts

have been created, painted, and gifted to those in need

We've lead healing art workshops in schools throughout

25 states

, from Maine to Hawaii

We've gifted hearts to recipients in

dozens of states

and

3 countries

, including Canada and England
Santi's Hearts allow beneficiary organizations to spread hope while overcoming their resource constraint. In recent years, Hearts of Hope has used the Foundation's annual grant to introduce a matching gift concept. We ask beneficiary schools and organizations to fundraise some funding on their own, and then The Santiago Abut Foundation matches that effort to double the number of hearts they receive. This enables the grant to stretch to more people while encouraging organizations to become more engaged, more committed, and more likely to come back and paint hearts in future years. 
We can think of no better way to celebrate Valentine's Day at Hearts of Hope than to remember the kind, quirky, joyful Santi and honor his legacy. Santi's memory has led to thousands of healing opportunities for students, teachers, and community members in need. To support the continued impact of Santi's Hearts, we hope you will consider donating. And this Valentine's Day, we encourage you to learn Santi's story and find your own way to spread love and hope in his memory.