Year in Review: Hearts of Hope in 2022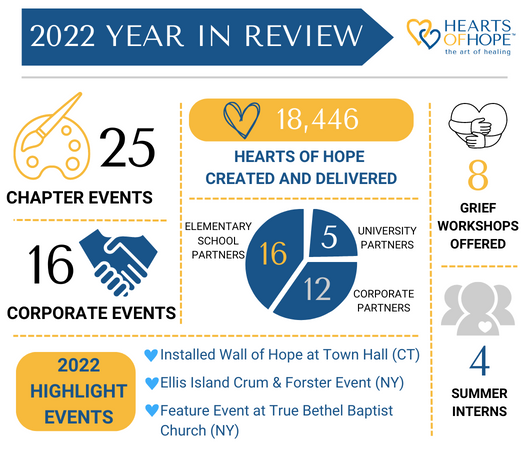 How We Created Hope Last Year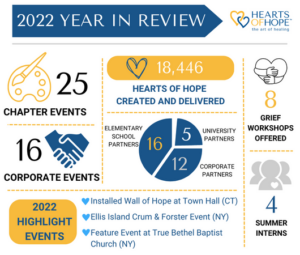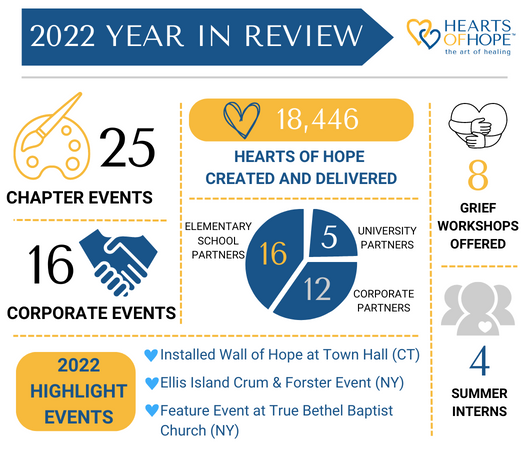 At Hearts of Hope, we are proud to spread hope, kindness, and healing through therapeutic art practices and grief support workshops. In 2022, we delivered 18,446 hand-made and hand-painted ceramic heart gifts, each accompanied by a hand-written message of caring and compassion, to those experiencing loss and tragedy. 
Thanks to your support, we also:
Installed a

Wall of Hope

at the town hall in Stratford, CT, where community members can take, share, and give Hearts of Hope to themselves and others who need a beacon of kindness. The wall will always be replenished as a living art piece and testament to the resilience and strength of the Stratford community.

Visited the

True Bethel Experience Church

in Buffalo, NY to distribute more than 300 Hearts of Hope and support the community after the Tops Market tragedy. 

Hosted a summer series of healing art workshops in Newtown, CT to show our support and appreciation for 911 operators nationwide. 
It is an honor to serve our friends, neighbors, and communities in need. We are looking forward to bringing even more hope to more people this year.