St. Josephs University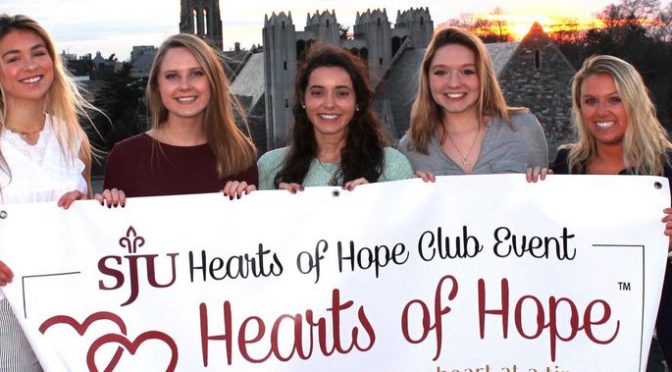 Our Story of HOPE…
Written by Brigette Pheloung, writer St. Josephs' Hawk Student Newspaper

The St. Joe's chapter of Hearts of Hope, has been making and sending decorated hearts to people who are experiencing difficult times since the chapter was established last year. The St. Joe's chapter, the Hearts of Hope Foundation's first collegiate chapter, meets twice per month to paint and decorate hearts made from clay which they donate to a charity, and organization or individuals.
The Hearts of Hope foundation was created after the Sept. 11 2001 attacks when volunteers gathered at Lourdes Hospital in Binghamton, New York to make gifts for the families of victims. Judy Pedersen, founder, board president and director of the Hearts of Hope Foundation, said the work the organization does is simple, and is intended to benefit people going through a hard time.
"We don't want bad things to happen, but we all know they will," Pedersen said. "We have all felt the feeling of fear and helplessness. This motivates us and drives us to think, what can I do and how can I do it?"
Since 2001, three chapters in total have been established, in Newtown and Stratford, CT, as well as at St. Joe's. Each chapter is able to personalize where they want to donate their artwork.
"The reason this organization has sustained itself so long and continues to grow, is because the painters are receiving just as much benefit as those who receive the hearts," Pedersen said. According to Anna Zalepa '21, president of the St. Joe's chapter of Hearts of Hope, the club had its biggest turnout of almost 60 people, including faculty and staff, during an event called "Paint with A Purpose" which was to honor St. Joe's rugby player Mark Dombroski '21 who died in March 2018. The chapter sent hearts to Dombroksi's family. "People came up to me days after the paintings for Mark telling me how it helped them cope in some way and continue to remember him," Zalepa said.
Lisa Dombroski, Mark Dombroski's mother said she was surprised and happy to receive the hearts that came packaged individually with notes from each student who participated.
"It was nice to see a lot of these kids who knew Mark put a personal message [on each heart] along with their relationship to Mark," Lisa Dombroski said. "We were able to establish a connection to who was creating these beautiful gifts for us." Zoe Petrides '21, a friend of Dombroski who attended the event where St. Joe's students painted hearts for the Dombroski's, said the painting was a cathartic experience.
"It was touching to see so many people," Petrides said. "I took away this feeling of community while I was there. I felt a sense of giving, because I was able to make an impact on his family."
Zalepa said she wanted to start the Hearts of Hope chapter at St. Joe's to bring the community together and to support people. The hearts donated to the Dombroski family did just that.
"[These gestures] are very important, because they show that your child is loved, cared for and will be missed," Lisa Dombroski said. "Even though Mark was only [at St. Joe's] for less than a full year, he did make an impact."